What is your position at ITC Systems?
My current title is Hardware/Software Technician and Assembler which means I transition from our service department and our production department depending on work load.
How long have you been working here?
In total, I've been with ITC Systems for about 20 years.
Can you tell us a little about your day to day job functions?
Since my return to ITC in 2015, I've been mostly focused on the production side of the business.  This includes production orders, inventory control and shipping. Working in our service department and any local IT work balance out the remainder of my time.
What has been the most interesting thing you've seen or done here?
I enjoy testing and validating new products and solving problems. Being sent out on the road to solve customer issues is really fun as well.
What tools or software do you use most in your day to day operations?
Aside from Windows, the software I use on a daily basis tends to be more related to service – Multiplan, docklite, 3rd party apps that are used for flashing our different processors. I even use our Print Manager software from time to time. Tools would include Oscilloscopes, DMM, power supplies and my new rework station.
Where is your favorite vacation spot?
Probably anywhere in the Caribbean. We really like taking cruises which provide the opportunity to see many different places in one trip. If I had to pick one, it would be the island of Bonaire. Half-Moon Cay is also a very special place.
What do you like most about working at ITC Systems?
I love the dynamic atmosphere. The day begins with one to-do list which usually changes by noon. No two days are typically the same around here. The comradery around this office is unique and all of us work hard and play hard.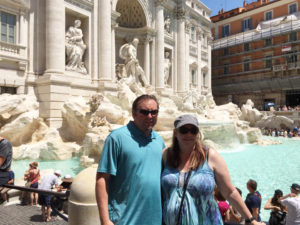 What more can you tell me about yourself i.e. Family, leisure activities, sports, accomplishments, etc.?
My house is very busy. Our days begins at 6:30a and doesn't start winding down until after 9:00p on most nights. After dinner, making sure homework, showers and anything else is done, I can usually be found in my office doing some sort of engineering side work which includes PCB layouts. Currently I'm developing my own serial protocol to work in a RS485 network.