Please tell me your position at ITC Systems and your role? What other roles have you performed at ITC Systems?
My current position is Materials Manager.  This position handles all of the raw materials used in the production of the products and finished goods that we manufacture for our customers.  I am responsible for the procurement, receiving, inventorying and delivery to production of all the materials used by the company. In addition, my responsibilities include the shipments of the finished goods outbound to the customer.  An important aspect of my position is to research suppliers for existing components and goods and source new suppliers for goods used in the latest products released by our engineering team.
I've had a couple of other roles in the company, I started out as a Production Assembler and then moved on to be the Production Supervisor before assuming the role of Materials Manager.
How long have you been working here?
I have been with ITC Systems for 13 years.
Can you tell us a little about your day to day job functions?
Purchasing and Material planning occupy a good part of my day and I work very closely with the Production Team to provide them with information about material availability. I work with our suppliers to expedite orders and procure better pricing and deliveries. A critical daily duty consists of supervising the receiving, shipping and warehousing of materials and orders.
What has been the most interesting thing you've seen or done here?
Being part of the process of releasing new and improved products is very interesting to me, I am involved with setting up components, creating the bill of materials and defining what needs to be ordered. It is very rewarding to see the final product and receive positive feedback from my team and customers.
What tools or software do you use most in your day to day operations?
The main tool I use on my daily activities is SAP, along with MS Excel for reports. MS Outlook and Skype are used to stay connected with my team and suppliers.
Where is your favorite vacation spot?
Without a doubt, Peru is my favourite vacation destination. I always look forward to visiting my family and catching up with old friends. I love Peruvian cuisine and there is no better place to experience traditional Peruvian food than Peru.
What do you like most about working at ITC Systems?
I would have to say my work family, they are great people to work with every day!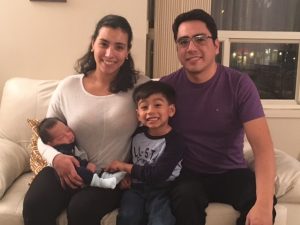 What more can you tell me about yourself i.e. Family, leisure activities, sports, accomplishments etc.?
My wife and I have recently welcomed our second child into the world. We're elated that our family is expanding. It's amazing to watch Sebastian, our 4-year-old son became a big brother to Vicente. I am loving fatherhood. In my spare time, I enjoy playing tennis, watching movies and going camping with my family and friends.