Please tell me your position at ITC Systems and your role? What other roles have you performed at ITC Systems?
I began with ITC Systems as a Software Support Specialist eager to take advantage of my studies.  To better perform my role, I developed an MS Access database system to track support tickets and replace the paper ticketing system in place at that time.  Within my first year, I moved the complete ticketing system platform from MS Access to Visual Basic 6 with MS SQL Server DBMS.  With input from the service team, I also incorporated service and licensing management into the system, which was used for 8 years.  Other roles that I have held are Software Support Manager, IT Manager and eventually IT/Engineering Manager in which I managed a team that successfully development many features to meet some of our major customer's requirements.  As a respected colleague once stated, the roles that I have held over the years prepared me for my current position in the company as the Solutions Advisor.
How long had you been working here?
Since June of 1999, which was a month after completing my degree at George Brown College.
Can you tell us a little about your day to day job functions?
I work closely with the sales team to recommend solutions and provide demonstrations of these solutions to our customers.  My goal as the Solution Advisor is to streamline the sales process for all of our products and systems which allow the sales team to focus on our customers and their requirements.
I also work closely with engineering to initiate 'Requests For Development' to meet our customer's custom requirements and change notifications. Another area of my job is to attend engineering and development meetings to provide input on the projects in the queue.
Project planning and SOW find their way onto my plate from which our Support and Service team can ensure that implementations are smooth and we meet the customer's solution requirements.
What has been the most interesting thing you've seen or done here?
What I find most interesting at ITC Systems is the constant change in technology and the challenge to adapt and develop solutions to meet an ever-changing market.  It is a best practice of ITC Systems in that the company recognizes that our customers are the experts and seek their input through our Customer Advisory Group which aids us to shape our solutions and maintain the developmental road map.
What tools or software do you use most in your day to day operations?
I use a variety of software tools primarily, to research, recommend and manage solutions both internally and for our customers.  These tools include Microsoft Project, Basecamp, Visio, MS Office, VM Ware, Amazon Web Hosting Services, Team Foundation Server, MS SQL Server, Various Operating Systems and ITC Systems complete line of Software and Hardware products of course.
Where is your favorite vacation spot?
At ITC Systems it's no secret where my favorite vacation spot is, Hawaii. My wife is from Hawaii.  For the past three years, I have been vacationing in Hawaii and was married on the beach in Hawaii last year.
What do you like most about working at ITC Systems?
What I like most about working at ITC Systems is the opportunity to make a difference and grow as an individual.  The team at ITC Systems recognize that each member can offer unique skills and abilities.  ITC Systems does a great job of recognizing your potential and encouraging you to achieve your goals.
What more can you tell me about yourself i.e. Family, leisure activities, sports, accomplishments etc.?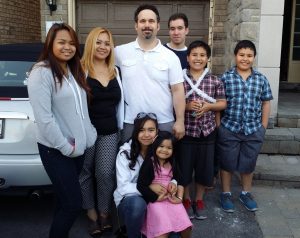 I enjoy spending time with my children and taking part in their activities.  I like to learn new technologies and be at the "bleeding edge of technology" with the latest gadgets and software. As a Kijiji/eBay (Buy and Sell Web Site) enthusiast, I enjoy purchasing broken or incomplete electronics, repairing them and reselling them.  I also enjoy being a jack of all trades fixing cars, renovating, plumbing and everything else under the sun.  For entertainment, I enjoy anything Sci-Fi, Zombie, apocalyptic or conspiracy theory related.  As a former DJ, I often still DJ for Wedding, Parties and other events.